Table of Contents
No matter how you cut it, the HK MP5 is one of the most recognizable guns on the planet. In addition to their near-ubiquitous presence in films, tv, and video games, these delayed blowback firearms are also common among military and law enforcement in almost 100 countries.
Like the Israeli Uzi, the German MP5 was designed to be a lightweight and versatile PDW (personal defense weapon), and it has been a huge hit since its debut in the 60's. Nevertheless, the iconic submachine gun has seen dozens of updates and variants including semi-auto only, suppressor-friendly, and larger caliber options.
Unfortunately, nothing can last forever and the MP5 has finally begun to be phased out and replaced with the UMP. In living up to their world-renowned reputation, Heckler and Koch developed the MP5's durable successor to be even lighter and more affordable.
I think we can all agree that a weapon doesn't become the most circulated gun in its class by accident – The MP5 is no ordinary firearm and it has the specs and decades of worldwide experience to prove it.
That's why in today's Gunivore Exclusive, we are going to be taking a closer look at the historic weapon to get a better picture of how this unconventional firearm became a universal classic.

MP5 Specs
Model: HK MP5A5
Caliber: 9mm
Capacity: 15/30 Round Mags
Barrel Length: 8.9"
Overall Length: 21.7" – 27.2"
Height: 9.1"
Width: 2.6"
Weight: 6.8 lbs. (Unloaded)
Finish: Matte Black
Sights: Iron; Front Hooded Post, Rear Rotary Drum
MSRP: Approximately $2,500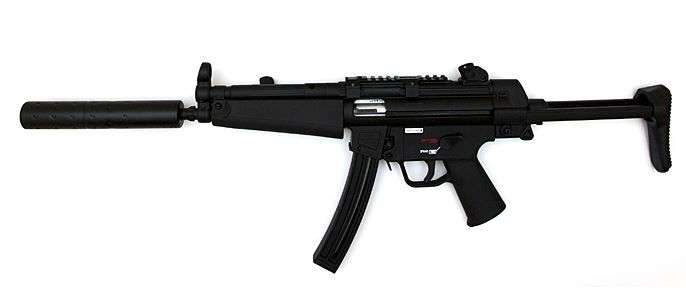 Model: HK SP5K (Civilian Variant)
Caliber: 9mm
Capacity: 10/30 Round Mags
Barrel Length: 4.53"
Overall Length: 13.9"
Height: 8.66"
Width: 2.4"
Weight: 4.2 lbs. (Unloaded)
Finish: Matte Black
Sights: Iron; Front Hooded Post, Rear Rotary Drum
MSRP: $2,699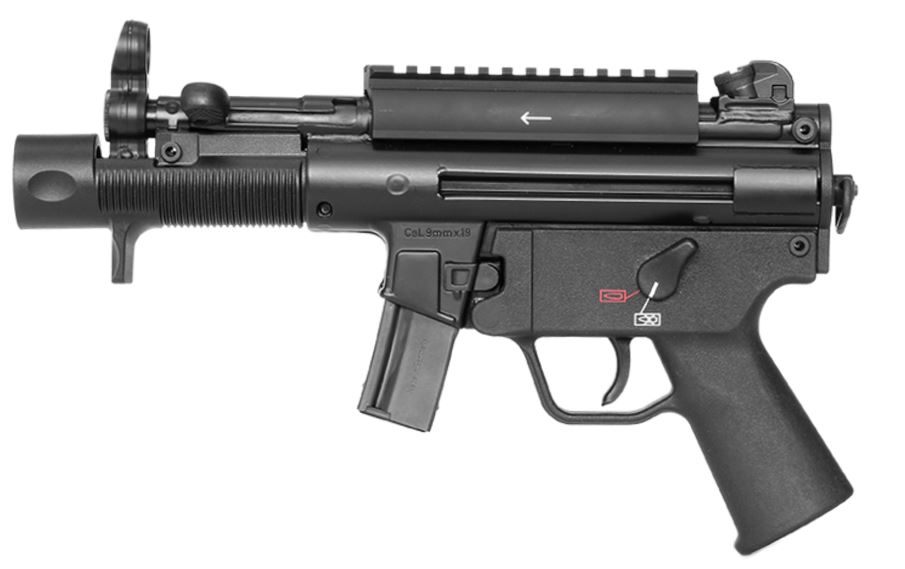 Model: HK UMP
Caliber: 9mm
Capacity: 30 Rounds
Barrel Length: 7.9"
Overall Length: 17.9" – 27.4"
Height: 11.02"
Width: 2.7"
Weight: 5.2 lbs. (Unloaded)
Finish: Matte Black
Sights: Iron; Front Hooded Post, Rear Rotary Drum
MSRP: ???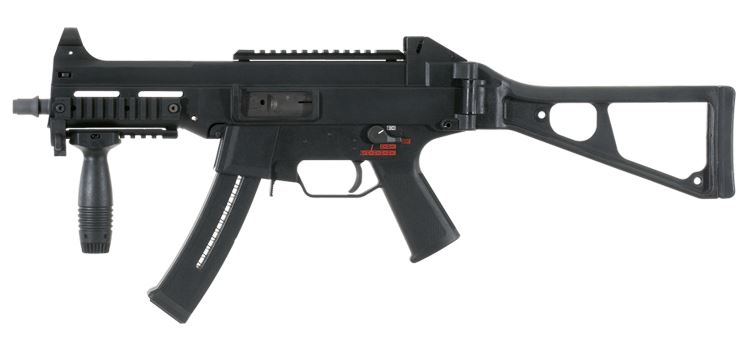 MP5 Historic Build
In developing the MP5, Heckler and Koch utilized one of the most successful assault rifles of the time – their extremely popular G3, as the base. After scaling down the high-powered battle rifle into a submachine gun platform, the Germans added some much-needed upgrades like cold hammer forged, free-floating barrels and more modern polymers.
While nothing about the MP5 stands out as being exceptionally ergonomic, it's small and convenient size is a huge plus for its overall handling. Additionally, its highly-modular design offers easy tactical adjustments on the fly. Although I was never a huge fan of the small cocking handle on HK's SMG, the rest of the controls feel extremely natural and are remarkably user-friendly.
Take the selective-fire switch for example, which enables the shooter to intuitively toggle between safe, semi-auto, full-auto, and burst modes. Considering this tactical advantage plus its collapsible stock and easily-concealed build it's no wonder why the MP5 was so popular.

Legendary Performance of the MP5
The decades of the MP5's continued use is the ultimate evidence of its incredible performance quality. Part of what made the SMG so successful was Heckler and Koch's risky move to stick with their traditional delayed blowback action.
Although it's the subject of much debate, H&K seemingly figured out how to mitigate all of the notorious issues with the blowback action. In general, delayed blowback firearms are known to be more ammo sensitive and run cleaner than the more common gas impingement. Nevertheless, the MP5 is remarkably easy to control and stays surprisingly clean thanks to its air-cooled construction.

HK MP5 Mags & Accessories
When it comes to aftermarket options, Heckler and Koch hooked it up big time for the MP5. In terms of magazines, the German arms developer offers your choice of 15, 30, or 40 round detachable box mags and some models are even capable of chambering a 100-round Beta C-Mag drum mag. Furthermore, H&K also markets magazine loading and unloading devices and magazine clamps.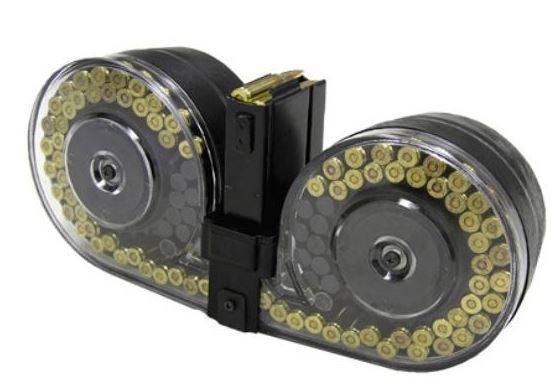 Considering the MP5's tactical excellence, many users opt to add attachments to the assault rifle including lasers, optics, and flashlights. One of the most common accessories is for this iconic firearm is a foregrip, and there are tons of fantastic options to choose from, like the T-FS 7 Position Side Folding Foregrip and their AG-44S Quick Release Ergonomic Foregrip. Additionally, it's not uncommon to see MP5s with upgraded tactical folding stocks, bipods, and additional rails.
If you're looking for more traditional attachments then there are some pretty incredible options to consider. Starting with a tactical flashlight, it's hard to beat the Streamlight TLR-1 HL, but if you're looking for an upgrade then check out their TLR-2s which also includes a sweet red laser sight.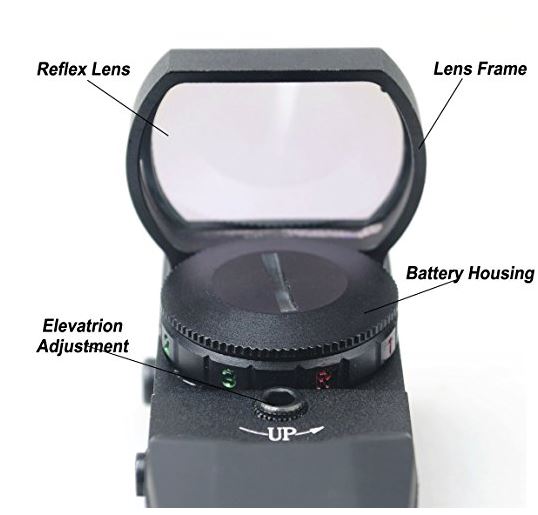 The next accessory to consider is a tactical optic, one that is as versatile as the MP5 and you can't get much better than Bushnell. In fact, I love their Trophy TRS-25 Red Dot 1 x 25mm on the MP5, especially considering how affordable it is ($79). On the other hand, it's also worth looking into the extremely affordable CVLIFE 1 x 22 x 33 Red/Green Dot Reflex Sight ($17).

German MP5 Vs. Israeli Uzi
In the world of SMGs, there are only a few guns who can even compare to the HK MP5, but the Uzi is definitely one of them. Whether or not someone is familiar with firearms they will most certainly recognize the iconic Israeli weapon, thanks to its ubiquitous presence in pop culture. Furthermore, the Uzi has also been utilized by law enforcement and militaries in over 75 countries across the globe ever since its debut.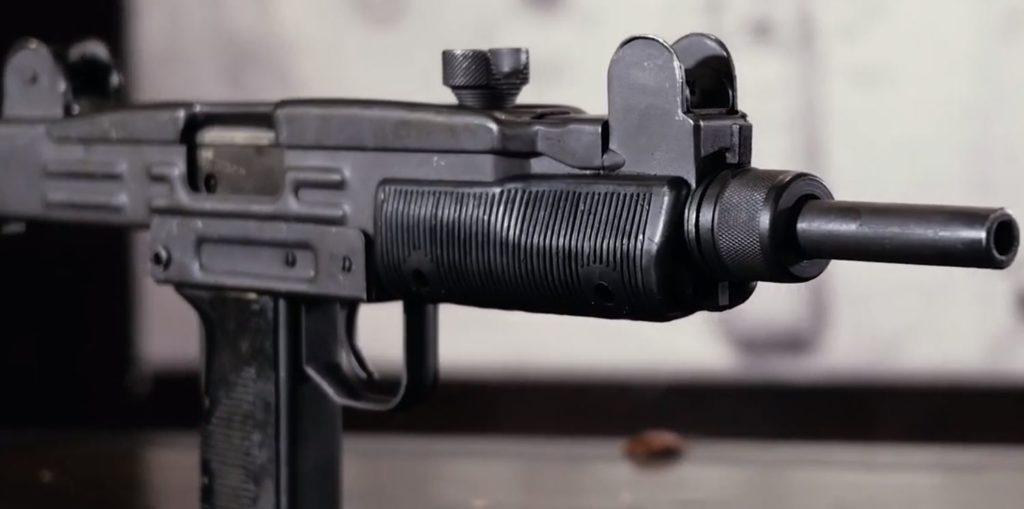 The most obvious distinction between these two legendary guns is their size – The Uzi is significantly lighter, smaller, and ultimately more concealable, giving it the tactical edge over the MP5. Secondly, besides for offering a significantly faster rate of fire, the Israeli SMG also boasts a much more impressive effective firing range. In fact, the only real advantage of the MP5 is its user-friendly controls and handling. In the end, I think I'll stick with my Uzi.
Conclusion
At the end of the day, few firearms have impacted the world as much as Heckler & Koch's MP5. One of the biggest tactical changes that happened after WWII was the switch to close quarters combat and the MP5 quickly became the market favorite. As a result, militaries and law enforcement alike jumped to the famous German weapon manufacturer to produce more and more of these impressive SMGs.
Thanks for joining us here at Gunivore! You might also like our Glock 19X and KRISS Vector Reviews.