Table of Contents
CZ is one of those unusual gunmakers who are so incredibly popular yet still manage to fly under the radar. The Czech company is by no means a household name, in spite of the fact that they manufacture one of the most widely-circulated handguns in the world, the CZ-75. In fact, the European weapons producer has been pumping out popular guns for nearly 100 years. Furthermore, the impressive CZ team was surprisingly able to succeed even under the harsh Soviet rule. Nevertheless, once the Iron Curtain fell, along with the expiration of the Warsaw Pact, CZ was able to flourish and export their products to a wider fanbase.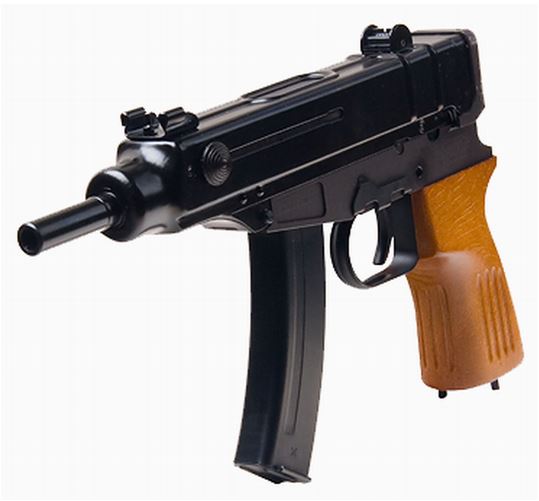 In truth, it wasn't really until they opened an American offshoot that they really became a world-renowned arms producer. After decades of perfecting their handguns, CZ went to work on revolutionizing the submachine gun back in 2009. It was then that they unleashed the Scorpion Evo 3 and took the industry by storm.
Although the modern CZ Scorpion is still relatively new, its roots go all the way back to the early 1960's. It was at this time that the Czechs manufactured the Scorpion vz. 61, a 7.65mm machine pistol designed for the Czech army and special forces. While they may share a similar distinction, these two CZ weapons are mostly unrelated.

CZ Scorpion Specs

Model: CZ Scorpion EVO 3 S2 Pistol Micro w/ Brace
Caliber: 9mm Luger
Capacity: 20+1
Barrel Length: 4.12"
Overall Length: 16.35"-23.35"
Weight: 5.5 lbs.
Sights: Low-profile fully adjustable aperture and post, 4 rear aperture sizes
MSRP: $1,149

Model: CZ Scorpion EVO 3 S1 Carbine FDE w/ Muzzle Brake
Caliber: 9mm Luger
Capacity: 20+1
Barrel Length: 16.2"
Overall Length: 26"-36"
Weight: 6.38 lbs.
Sights: Low-profile fully adjustable aperture and post, 4 rear aperture sizes
MSRP: $1,029

CZ Scorpion Build & Construction
2018 is looking to be a huge year for CZ, especially once they announced five new additions to the Scorpion EVO line. To make things even better, CZ-USA diversified the Scorpion collection like you wouldn't believe. Besides for pistols and submachine guns, the prospering gunmaker has also created a few truly remarkable Scorpion EVO Carbines. While these new models stay true to the basic Scorpion format, CZ is offering new and improved features such as flash cans, updated finishes, and folding braces.
What I really loved about the new Scorpion's build was how innovative it was. For example, CZ outfitted these bad boys with polymer upper and lower receivers but decided to stick with all steel parts. Even more impressive is how ergonomic these carbines and submachine guns are.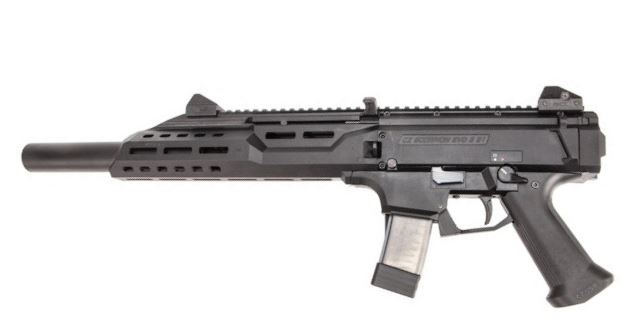 Furthermore, some of the new models feature SilencerCo faux suppressors or KAK flash can muzzle devices. These new and inventive components effectively boost control, redirect the gun's gasses and noise forward, upgrade aesthetics, and improve overall reliability.
One of the more interesting components on the Scorpion Carbine was the folding stock. It was sturdy, easy to use, but definitely more basic when compared to its competitors. Nevertheless, it works just fine and does feature a comfortable rubber buttpad and adjustable length of pull. Similarly, the carbine has a pretty interesting handle configuration.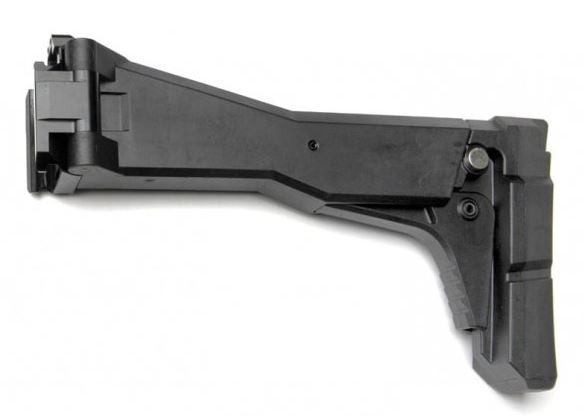 The large and flared grip is kind of ugly but does give pretty good grip support. Unfortunately, because of its large grip surface and ambidextrous controls, the safety toggle can cause some discomfort. The next thing you'll notice is the European-style mag release. Although I've never been a fan of these, this one is actually tolerable thanks to its ability to be pressed by the trigger finger.
Because CZ wanted Scorpion Carbine owners to be able to accessorize, they integrated M-LOK attachment points at the 3, 6, and 9 o'clock positions on its fiber-reinforced polymer frame. Plus, they also added a full-length Picatinny rail on top attached to the receiver.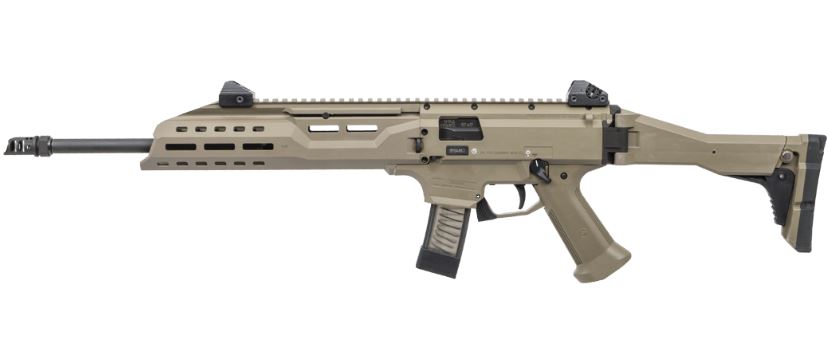 Between these two setups, there are countless accessory configurations you can choose to attach lasers, lights, and what have you. To make it even sweeter, CZ added integrated ambidextrous sling mounts, saving you precious space on the handguard.
Although the carbine Scorpion offers all of these upgrades, they were outfitted with one of the best default sight systems I've ever seen. CZ-USA attached fully-adjustable aluminum sights on both sides that are sure to impress. In addition to being windage-adjustable, the rear sight has four aperture sight options to give the shooter incredible versatility. Moving up front, this elevation-adjustable sight features glare-reducing serrations.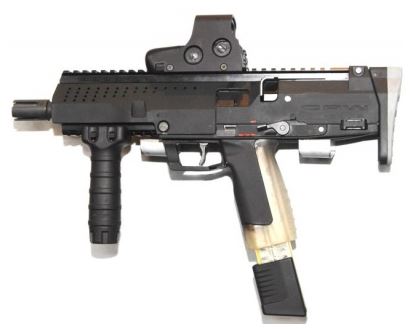 Like the carbine, the CZ-USA semi-automatic pistol is insanely versatile and just flat out amazing. In fact, these models are incredible CQB firearms comparable to legendary weapons like the Uzi, FN P90, KRISS Vector, and the ST Kinetics CPW. To make these groundbreaking PDWs, CZ incorporated 7.75" barrels, ambidextrous controls, swappable non-reciprocating charging handles, four Picatinny rails, and even adjustable trigger reaches.

CZ Scorpion Mags
The best part about the Scorpions' mags is their high-capacities, including 10, 20, and 30 round options. While these Double stack polymer mags may not be the most durable, they are super affordable and surprisingly reliable. Additionally, because the magazine wells are flared, it's fast and easy to load and reload the Scorpion.
CZ Scorpion Performance & Operation
The CZ-USA Scorpion blowback-operated semi-autos are a true pleasure to shoot. No matter how you decide to use your Scorpion, you know that you can trust it no matter what. These highly-rated carbines and pistols are incredibly user-friendly and easy to use, especially considering their manageable 9mm cartridge. As much as I enjoyed the submachine gun models, it's hard to beat a carbine.

I love the extra velocity offered by these guns, not to mention the significantly reduced recoil and muzzle rise. I was also really impressed by how easy follow-up shots were, even on the pistols variants. While there are so many factors to consider in a new gun, it's crucial to never overlook the trigger. That being said, I was more than happy with the CZ Scorpion triggers. Although it took me some time to get accustomed to them, I can't complain about a 7.5 lb. average trigger pull.
Accessories for the CZ Scorpion
I have to say that these firearms are more than effective without adding any attachments and accessories. Nevertheless, CZ left the door open for all kinds of tactical upgrades and aftermarket options. If you're looking to add an optic to your Scorpion, you can't go wrong with an Aimpoint, EOTech, or Trijicon. Furthermore, because the Scorpion is such a tactical masterpiece, many users tend to attach lights and lasers.
I'm a huge fan of combination accessories so it's no surprise that I highly recommend the Crimson Trace CMR-206 Rail Master Universal – This is one of the top-rated affordable pistol accessories on the market ($120) that can give you a major tactical advantage. Lastly, although CZ currently markets Scorpion models with great muzzle devices and faux suppressors, nothing beats a real-deal firearm suppressor. While you may not think that a 9mm pistol caliber gun needs a suppressor, try a SilencerCo Osprey and I guarantee you won't regret it.
We hope you enjoyed this Gunivore feature – Stay tuned for more exciting CZ reviews!