Table of Contents
2017 was a big year for Glock but it looks like the big-name gunmaker wanted to up the ante in 2018. While 2017 saw the addition of the Gen 5 G17 and G19 plus a slew of new factory options for their other popular handguns, 2018 has already proven to be huge for Glock. After announcing the addition of the G26 and G34 to the Gen 5 family, Glock released the 19X, a hybrid between the G17 and G19.
This crossover 9mm promises to be huge for Glock as sales are expected to go through the roof. Furthermore, because they developed their new polymer pistol with law enforcement, military, and civilians all in mind, you can expect to see the 19X just about everywhere and anywhere. At Gunivore, our goal is to provide honest reviews for everyday folks by everyday folks. So let's get to it and take a closer look at the new and exciting Glock 19X.
But first, don't miss out on our picks for the top G19 Accessories, Holsters, & Finishes.
Specs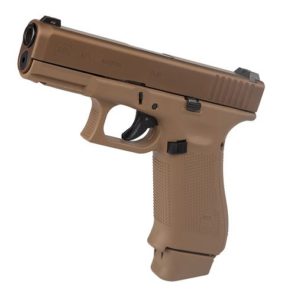 Model: Glock 19X

Caliber: 9mm

Capacity: 17/19 Rounds

Barrel Length: 4.02"

Overall Length: 7.44"

Height: 5.47"

Width: 1.3"

Weight: 24.83 oz. (Unloaded)

Finish: nPVD Polymer

Sights: Glock Night Sights

MSRP: $749.00
Glock 19X Build
This is where the novelty of the Glock 19X lies. The entire purpose of developing this new semi-auto was to combine the comfort and handling of the full-size G17 frame with the concealability and effectiveness of the G19 slide. By uniting their two most popular models, Glock hoped to create the ultimate pistol. Even more than that, the Austrian firearms producer made a bold move by ignoring the constantly expanding CCW community. Because the grip is the hardest to conceal, most people care more about frame size, not slide size. In other words, the 19X isn't an ideal EDC gun.
Besides for its unique shape and size, the 19X has a few other standout features. In addition to the fresh coyote finish, the new Glock was also outfitted with ambidextrous slide stop levers, a lanyard loop, and the renowned Glock Marksman Barrel (GMB). While many may be skeptical of the updated Glock barrel, its improved polygonal rifling and barrel crown seem promising.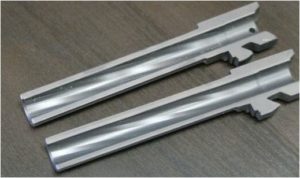 Although it took me some time to get used to the look of the gun, the 19X feels like your standard Glock. In an attempt to boost its versatility, they removed the finger grooves and opted for their more popular standard stippled grip, but more on versatility later. In all honesty, I can't say that I love Glock's grips. Although it's hard for me to pinpoint exactly what I dislike about them, I think I just expect more from a gun of this level. Similarly, while Glock likes to rave about their nPVD corrosion-resistant finish, it is nothing more than average. That's not to say that there's anything wrong with that, but in today's market, most polymer pistols have excellent finishes.
If you're a fan of the G17, don't miss out on our picks for the top G17 Holsters, Upgrades, & Talon Grips.
Glock 19X Performance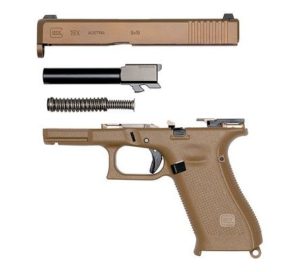 The Glock 19X performs exactly how you'd expect; there were no real surprises here. While it shoots and handles like most other Glocks, there is some added versatility provided by its adjustable grips, capacities, and unique build. Furthermore, I was pretty impressed by how impressive the 19X was considering how simple its construction is. By utilizing less components, the new Glock is more reliable and significantly easier to clean and maintain.
It's worth knowing that the 19X was not built out of any necessity or with any huge innovations. Glock initially built their new semi-auto 9mm to compete in the legendary U.S. Military's XM17 Modular Handgun System Competition (MHS). Although the competition was stiff, the Glock was favored to beat out some other great firearms including the redesigned Beretta M92A1 and Smith and Wesson M&P. At the end of the day, Glock was beat out by the insanely fantastic Sig Sauer P320. Nonetheless, the 19X prove itself to be quite dependable, durable, efficient, and accurate.
Magazines for the 19X
The standard Gen 5 mags unfortunately aren't compatible with the 19X but previous G17 magazines will. Nevertheless, the new Glock ships with three magazines, one standard 17-rounder and two 17+2 extended mags. Lastly, Glock decided to revert from the flared mag wells of the Gen 5 and go with their classic style.
Glock 19X Holsters
It's still too early to tell if anyone will market holster specifically for the 19X, but nearly all G19 holsters should work fine, with few exceptions. Because of the 19X's unusual build, it's crucial to find a comfortable holster with the right cant that offers a smooth pull. While I can always recommend AlienGear, you can't go wrong with a dependable and affordable Kydex IWB or OWB holster and magazine pouch.
The Glock 19X in the Coming Soon Sidecar Holster @hiddenhybridholsters #glock19x @glockinc #appendixcarry #sobcarry #everydaycarry #ccw #protectyourself #pewpew #iwbholster #iwb #sparemag #survival 📷: @hiddenhybridholsters pic.twitter.com/vcW6FOgPpi

— HiddenHybridHolsters (@HiddenHolsters) January 24, 2018
Aftermarket Options for the 19X
The new Glock 19X does feature a shortened accessory rail forward of the trigger guard, but that doesn't mean you need to add any attachments. The 9mm is pretty solid as is so I'd really only opt for accessories if you're relying on the 19X for home-defense. In that case, you can't go wrong with the Crimson Trace Rail Master Pro Laser/Tactical Light combo, but it'll cost you.
Conclusion
As solid as the Glock 19X is, I wouldn't recommend it to people who already own a Gen 4 or 5 model. There are so few advantages to the new Glock when compared to the Gen 5 guns that I just don't see the point in owning both. All things considered, after such an outrageous January, I'm excited to see what else Glock has in store for 2018. For now, I guess we'll have to wait and see.
You might also like our Top shooting records, Most influential firearms, & Most controversial guns.