Table of Contents
Like in many fields, some firearms manufacturers choose to focus on an industry niche. For Faxon Firearms, it is that of barrels and AR-15 upper receivers. Many factories produce fine quality firearms, but there are always shooters who are searching for aftermarket products to bring their game or tactical edge up a notch or two, and this is where they come in.
Company Background
The company was founded in 2012, when Bob and Barry Faxon made room for a new subsidiary within their existing machining business. Faxon Machining is a company which has been around since the late 1970s, working with virtually every industry in the book, and delivering precision CNC machining and drilling for those who seek it.
They decided to devote a branch of the business to firearms at a time when Bob found himself dissatisfied with what the AR-15 aftermarket had to offer. He and Barry had been firearm enthusiasts their whole lives, and they wanted to show the public something else. Using quality materials and many years of experience, the two began developing their own brand of firearms, receivers, and accessories.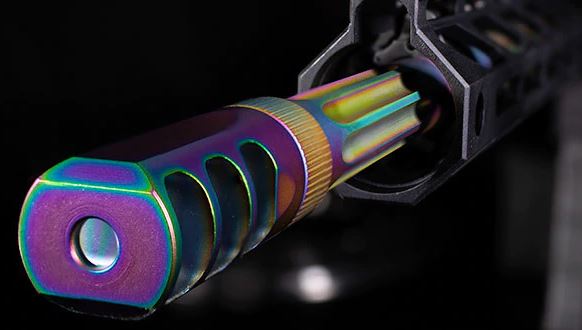 Faxon Barrels
Faxon offers rifle barrels in a variety of calibers, with lengths ranging from pistol-length 7.5 inches to a full-size 24 inches. These – like the rest of the company's items – are built with value and longevity in mind.
The company has several profiles of rifle barrels:
Match series
Gunner – best of pencil and gov't, a kind of hybrid
Pencil
Big gunner
AKM – made for the AK-47 platform
Some of their best-sellers are:
16-inch Pencil ($175)
16-inch Gov't/SOCOM ($169)
16-inch Gunner ($175)
All in 5.56mm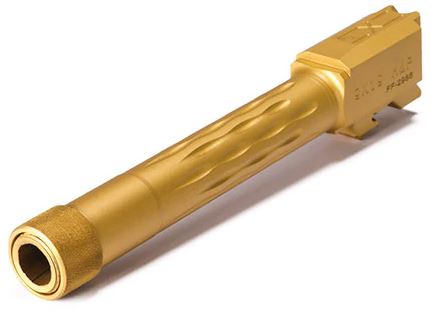 Handgun Barrels
The barrels may be shorter, but accuracy and precision are always at the forefront of Faxon's efforts. The barrels are threaded or non-threaded, with optional coatings for further protection or just aesthetics (looking at you, tin coating! Looking good!).
The company manufactures aftermarket barrels for:
Glock
G17
G34
G19
($139-229)
SIG Sauer P320
Full size
Compact
($195-235)
M&P
Full size
2.0 Compact
($195-235)
The company also produces quality slides for Smith & Wesson's M&P series, with prices ranging from $499.99-724.97
Faxon Firearms
Faxon manufactures complete rifles, as well as upper receivers and drop-in parts for various models or systems.
In the AR-15 department, there are the following complete rifles:
FX5500 Ultralight – this rifle weighs just under 5 lb, which is as light as they come. Comes with their very own HiperFire EDT3 trigger, a Gunner lightweight bolt-carrier, and a 14.5-inch Pencil barrel which combines with a welded brake to comply with the 16-inch barrel NFA requirement.
($2,099)

FX5510 3-Gun
Built specifically for multi-gun (3-Gun) competitions, this is a rifle which comes with an 18-inch Match Series 5R Gunner barrel, HiperFire EDT3 trigger, ambidextrous controls, and it weighs just under 6 lb.
($2,199)
FX6500 6.5 Grendel
This one is where the caliber says it all. The 6.5 Grendel cartridge was originally designed for hunting. This rifle features a lot of the same elements of the 3-Gun model, but it comes with an added punch.
($1,899)
The ARAK-21 XRS is part of the ARAK-21 platform – a hybrid of AR-15 and AK47, first unveiled in 2014. The XRS has a price tag of $1,899 and is built in accordance with the customer's preferences. The operator may choose the type of ejection, colors of the receivers, desired assembly unit for the barrel, and other features.

The XRS includes a Hogue grip, ambi-controls, a stock by Bravo Company, and a magazine which matches the model. There is also the option of ordering additional barrels, along with their respective assembly units. Depending on the customer's wants and needs, they may choose to opt for additional firing pins and barrel assembly units.
Parts & Accessories
Faxon also has a hand in developing parts, accessories, and assorted knick-knacks, such as muzzle breaks, handguards, gas blocks, bolts, flash hiders, pins, knobs, bolts, springs, and more. Hell, they even created shirts and patches. Among the different parts and elements, they give their ARAK platform a separate section. The ARAK-21 accessories include Picatinny rails, assemblies, pins, bolt carriers, springs, etc.
Conclusion
These mod-options will not appeal to some, because it may very well not make such a big difference to the average shooter. It is quite possible that only a more experienced shooter (competition or otherwise) would be able to benefit from these barrels and/or add-ons. In many cases, the barrel or setup you get from the factory is pretty much good to go (other than the occasional gun or rifle that needs a work-through).
Faxon is good at what they do, and it is a great choice for anyone who wants to level-up their rifle or handgun setup. Just don't go in there with false expectations. Your skill comes first, and the weapon follows. You can have the best gun in the known universe, but if you are not up to par, it is simply a nice collection of metal/plastic parts in the shape of a firearm.
There are those who would claim that you shouldn't be so fast to spend money on replacing the factory elements. This varies from one individual to the next because we all have different shooting ideals and different ideas of how they should be actualized. Will setting your AR-15 up with a new barrel improve your game? Only if you are up for improving. It is the operator who has the control and the skill, and this doesn't change no matter what.
Thank you for joining us here at Gunivore!
You may also enjoy our reviews of Primary Arms & Radical Firearms