Table of Contents
If you haven't heard of Sig Sauer's P320 yet then I don't know where you've been for the last year. As one of the best-selling guns in America, the new and improved Sig pistol is sweeping the nation thanks to its incredible versatility, durability, and accuracy. In fact, it was just this January that the P320 won the long-awaited and highly-anticipated U.S. Military Handgun Competition. In order to win the XM17 Modular Handgun System Competition (MHS), Sig had to beat out some of the toughest competitors the entire arms market has to offer. Besides for beating out the reigning six-decade defending champion Beretta M9, they also had to overcome frontrunners such as the FN FNS Compact, Smith & Wesson M&P, and the predicted-favorite Glock 17.
Eventually, on the 19th of January, 2017, the American Military announced that Sig Sauer Inc. was the winner of the highly sought after $500+ million government contract. To top it all off, each of the different branches of the military would be receiving Sig ammunition, parts, and services for the foreseeable future. Besides for boosting their company's worth through the roof and earning bragging rights, Sig Sauer was able to walk away from the competition with the pride of supplying our nation's troops. Knowing this, it should come to no surprise to find out that the P320 was awarded the prestigious (NRA) American Rifleman's Handgun of the Year in 2016.
Sig Sauer may have started ages ago as a small-time wagon wheel producer, but fast forward around 150 years and you'll see one of the most impressive arms developers in the industry. In today's Gunivore breakdown, we're going to examine the P320 from the inside out to see how the P320 has managed to establish itself in modern firearm glory.
Sig Sauer P320 Specs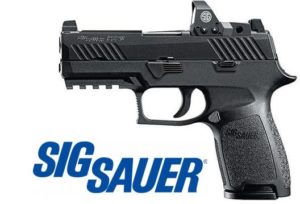 Model: Sig Sauer P320 Full Length
Action: Striker Fired (Short Recoil)
Caliber: 9 x 19mm Parabellum
Capacity: 17+1
Barrel Length: 4.7"
Overall Length: 8.0"
Weight: 29.4 oz. (Unloaded)
Sights: Fixed Iron Sights (Front Blade, Rear Notch) – Optional Tritium Night Inserts / Optical Reflect Sight on RX Model
Finish: Black Nitron
MSRP: $679.00
Sig Sauer P320 Build & Design
Before we get into the nitty-gritty of the P320, we already know that in order to win the MHS, Sig Sauer had to create a handgun that would be more effective, accurate, and reliable than the iconic Beretta M9. In short, Sig was compelled to build the next world's best pistol. Additionally, one of the many requirements imposed by the military was that the new service sidearm had to be as resilient as it was versatile. So in designing one of the most durable firearms on the market, Sig Sauer had to make their new weapon adaptable with multiple magazine and grip options. Oh, and not to mention that it also had to feature a non-reflective neutral finish, an integrated rail system, and be suppressor-friendly.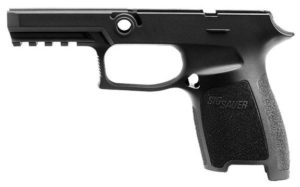 Therefore, Sig's team of brilliant engineers had their work cut out for them and they certainly delivered! In addition to the major modular adaptations, they also made several nuanced adjustments that seamlessly coalesced to propel the P320 into a whole new level of firearm. The innovation of the P320 begins with its frame, well the fire-control unit more accurately. What I mean is that while most firearms are meaningless without their frames, the critically-acclaimed Sig utilizes its frame more like a shell than anything else. Practically speaking, the P320's frame is just a placeholder for the removable fire-control unit, which ultimately gives it its tremendous adaptability. This straightforward metal chassis holds the trigger, ejector, and striker and functions like the heart of the weapon. As a result of this distinctive design, shooters can easily swap grips, calibers (.357, .40 S&W, and .45 ACP), and even the slides on their P320. Besides for the obvious benefits of this, P320-owners can now replace their frame for no more than $50.
As one of the most adaptable and user-friendly handguns on the market, there's just so much to love and talk about. I was pleased to see how simple the P320's takedown was – Besides for not requiring any tools, the three-point takedown safety system prevents the pistol from being field-stripped without first removing the mag and cocking the slide back.
One of the most noticeable upgrades to the award-winning Sig was the addition of a polymer frame, something which they have generally avoided. The obvious benefit to utilizing polymers is that it effectively dropped weight without having to sacrifice any durability or control. As a matter of fact, the modern polymers can actually handle harsher environments and abuse better than the conventional steel builds.
Sig Sauer P320's Performance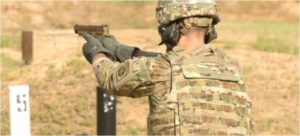 In their attempt at mastering the modular, polymer-framed pistol, Sig Sauer used their P250 model and transformed it, maximizing its aesthetics and abilities. To even be considered a contender for the MHS, the P320 had to be ambidextrous-friendly and able to hit a 4" target at 50 meters consistently. Considering that it passed these rigorous military tests with flying colors, I don't think there should be any doubts about the 320's accuracy or overall operation.
In order to achieve their peak performance, Sig's team added a grip weight that works wonders for the gun's balance and overall feel. The comfortable handling of the P320 is only surpassed by its natural pointing and intuitive trigger. While not everyone will love the crisp 6.25 lb. trigger pull, Sig designed it to be the perfect balance for safe carrying and fast shooting.
Because the rest of the P320 is so extraordinary, it's easy to overlook something like their mags. Besides for incorporating a convenient, detachable mag well, Sig's magazines are as reliable and durable as they come. The cherry on top of it all is that the P320 can handle just about any ammo you can load it with.
Sig P320 Accessories & Aftermarket Options
This part is tough for me because while Sig Sauer gave the 320 an integrated M1913 accessory rail, the semi-auto is already so freaking brilliant by itself. Furthermore, since many P320 owners opt to carry their gun, most don't end up utilizing the rail. Nevertheless, there's a nearly infinite amount of aftermarket options to consider. Considering that many shooters will opt for either a tactical light, laser sight, or a combination laser/light, I highly recommend checking out the Crimson Trace CMR-206 Rail Master Universal – This is one of the best and highly-rated affordable pistol accessories on the market ($120) that'll take your performance to a whole new level.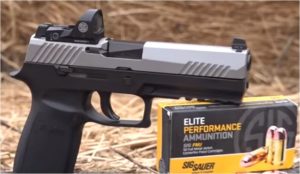 Without getting too technical, Sig redesigned their sight system to enable 'quick' sight swaps, but most shooters generally stick with the factory-installed option. They do a lot of promoting for the ROMEO1 open reflex sight, but I've heard mix feelings about it – you're either gonna love this optic or hate it with a passion, so make sure you can test one out before ordering one online. Additionally, Sig Sauer also markets their more-impressive SIGLITE Night Sights and Contrast Sights which are huge fan-favorites.
I'm not sure why, but there seems to be a bit of a shortage of holster options for the P320 with the exception of Sig-made models. That being said, there is a decent variety within their online catalog in a solid range of materials and prices. Many P320 fans praise Sig for marketing actually affordable holsters, like the LVL1 ($9), Concealment Holster P320 Carry & Compact Blade-Tech, IWB, OWB ($19 sale price), and the Leather Pancake Holster ($25). On the other hand, they also offer IWB and OWB premium options such as my favorite, the P320c OWB Tactical Holster from Black Point Tactical ($90).
P320 Problems
Just because the P320 won one of the world's toughest firearm competitions doesn't mean that it is exempt from having issues. As a matter of fact, there were dozens of reports of accidental discharges upon dropping the gun which is 100% not okay. In order to save their pistol from the abyss Sig had to act fast and they did just that. In addition to developing a number of necessary modifications, the award-winning company offered a free voluntary upgrade to all P320 owners.
Besides for this major neglect, Sig still had yet more adversity to overcome. Even after winning the MHS, Glock protested the outcome with the claim that the military failed to test the firearms thoroughly enough. More precisely, the top-selling manufacturer maintained that the MHS didn't properly assess the respective guns' long-term endurance. Nevertheless, an Army spokesperson reaffirmed the original decision and emphasized that they would not be taking Glock's complaints any further.
Conclusion
All things considered, the Sig Sauer P320 is probably the best sub-$700 handgun on the market. What's not to love about these remarkable pistols –They are insanely accurate, durable, ergonomic, and feature the most revolutionary components and technology in the industry. In general, I think it's safe to say that if it's good enough for the U.S. Military then it's good enough for me.
Thought the P320 was impressive? Then check out the rest of Sig Sauer's incredible collection of semi-automatic handguns like their 1911, SP 2022, P290, and P239.