Turkish firearms are nothing new to the American firearms industry, think the SAR9, Canik TP9, Stoeger shotguns, and more – However, the Panzer Arms AR12 is truly in a league of its own. Today we're going to take a closer look at one of the most interesting firearms on the civilian market that combines two very different platforms for a pretty wild outcome. Although this isn't the only shotgun based on the AR-platform, it has certainly become the prototype for this unusual new niche firearm.
Panzer Arms Availability
Panzer Arms is a Turkish-based gun manufacturer that has been producing hunting rifles and other firearms for around 50 years. While many shooters will question the integrity of a Turkish-made firearm, the American market has been largely impressed by Panzer Arms. While this may not attest to the quality of all Turkish guns, it safe to say that Panzer Arms has earned the title of a legitimate and trustworthy manufacturer.
Nevertheless, most people get these guns through an importer and many people choose Atlantic Firearms. However, there is an American Panzer Arms subsidiary called Panzer Arms USA. Keep in mind that because this is such a budget-friendly firearm, choosing an importer usually revolves around availability and less about finding the right price. This isn't always the case with niche guns but the Panzer Arms guns are kind to the wallet.
Gunivore Approved
Model: AR Twelve
Caliber: 12 Gauge
Capacity: 5- or 10-Round Mag
Barrel Length: 20″
Overall Length: 40.5″
Weight: 6.5 lbs. (Unloaded)
Sights: Removable Flip-up
Price: Around $400 Depending on Make
The Panzer AR12 is basically an AR-15 shotgun and there aren't many of those on the market. Being such a niche gun definitely adds to the appeal of this gun but it's so interesting and affordable, I can't imagine who wouldn't want one. On the other hand, I didn't have the most amazing experience with the similar Rock Island Armory VR80 but I was ready to give this AR-shotgun a chance.
Picking this gun up is very much like picking up your standard AR, even in its heaviness. The pistol grip, semi-adjustable synthetic stock, and full rail totally hide the fact this is actually shotgun. So I loaded 5 slugs into a magazine (which felt weird) and then I got the sense that this was more than just an AR-15.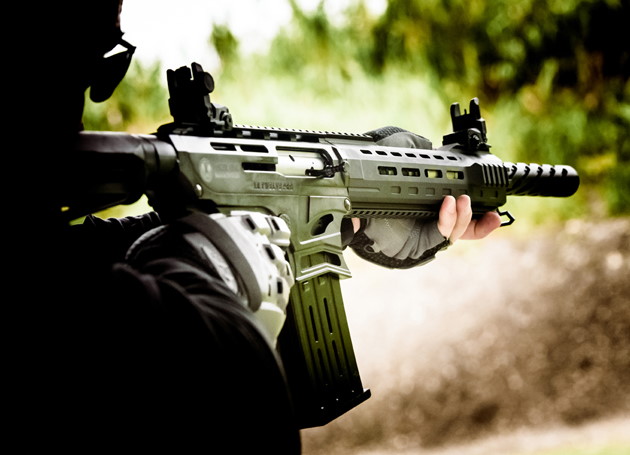 The controls were intuitive and functioned perfectly. It was easy to load and unload and the handling was fantastic for shooting slugs. In practice, I really think this gun has the potential to be a great home defense gun. While it's all fun and games at the range, this showed real potential for use as a defensive firearm. I love shotguns and I think there are many defensive applications for them. However, the Panzer AR12 gives you that but adds the control and tactical benefits of the AR-platform.
I love that there are multiple attachment points including swivel mounts because it really gives this gun a tactical edge. Panzer understands that while this gun is fun to shoot, it does indeed serve a functional purpose. That being said, I was a bit disappointed that there is a fake barrel shroud attached that is just for looks. It's not a big deal, but this isn't a damn toy. Aesthetics are important but I don't want fake anything on my firearms.
Gunivore Approved
Model: AR Twelve Pro
Caliber: 12 Gauge
Capacity: 5- or 10-Round Mag
Barrel Length: 20″
Overall Length: 40.5″
Weight: 9.10 lbs. (Unloaded)
Sights: Removable Flip-up
Price: Around $400 Depending on Make
The Panzer Arms AR12 Pro was not as exciting as I had hoped as it's remarkably similar to the standard model. The primary difference is that the AR12 Pro features slightly different rails and an aluminum alloy receiver. While this may not seem like much, it does have a slight effect on performance. The added 3 pounds of weight of the reinforced receiver will help the firearm last longer but it also helps add stability and give the gun a more solid feel. I definitely wasn't disappointed with Panzer Pro but I was hoping for more innovation.
Gunivore Approved
Model: BP12
Caliber: 12 Gauge
Capacity: 5-Round Mag
Barrel Length: 20″
Overall Length: 30.7″
Weight: 8.37 lbs. (Unloaded)
Sights: Removable Flip-up
Price: $579.99
So if you thought the original Panzer Arms AR 12 was a Frankenstein kind of gun, then meet the Panzer BP12 – The bullpup version of the AR-15 12 gauge shotgun. Like the AR12 and AR12 Pro, the BP12 is a tactical masterpiece with all the bells and whistles you'd want in a gun like this if you ever imagined such a thing.
For starters, I love bullpups because they're super reliable, ergonomic, tactical, and fun guns to own and shoot. One of the most interesting components is that this baby is only 30″ long but has a 20-inch barrel. Yes, that means that there's only 10″ not part of the barrel meaning this gun makes use of its space like a packrat in a studio apartment.
However, shooting the BP12 is surprisingly comfortable and intuitive if you're at all familiar with bullpups. I really like that it's ready to handle all kinds of optics and attachments plus it's got built-in sling points and an angled foregrip which gives the gun superb handling. It's a very natural feel that fits this firearm nicely. Plus, it's an ambidextrous-friendly gun so they really put some thought into the controls of this system.
You'll also notice that, like many bullpups, this long gun is supremely balanced which makes handling the gun that much easier. I also want to mention the stock with its adjustable comb and comfortable buttpad. This gun needed a top-notch stock and I think Panzer did a fairly good job with it.
Panzer Arms AR 12 Accessories
At the end of the day, the accessory options for the Panzer Arms AR 12 are nearly endless. They placed attachment points all over these long guns and made it one of the most tactical-friendly firearms on the market. These are definitely niche guns but they are functional, affordable, and a blast to shoot.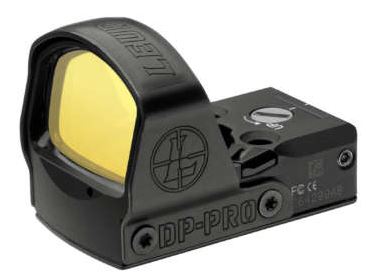 You can search for shotgun accessories or rifle accessories and you'll find just what you're looking for. Between lights, lasers, grips, and more, there's no limit to how you can deck out your AR12. Personally, I think a side-mounted laser light is a sweet set up and it's hard to beat Streamlight and their many tactical options. A reflex sight is also a great choice for tactical shooting with this gun and the Leupold DeltaPoint Pro Sight is one of the best money can buy.
Let us know your thoughts and experiences in the comments section!