Table of Contents
2017 is here and Bushmaster has finally released two new firearms in their catalog – people are pumped! The new Minimalist-SD rifle comes in two models, both of which are lightweight and sophisticated MSR's. Bushmaster is famous for their AR-15 variants and is the most popular distributor in the United States. With these new models, their sales are no doubt going to rise even higher. Like the rest of Bushmaster's AR-15's, the Minimalists were engineered to be durable, reliable, and accurate. However, because of all the new updates, this gun proudly stands out from the rest – as you'll learn from reading our Bushmaster Minimalist-SD Rifle Review!
Bushmaster Minimalist-SD Rifle Specs
Mag capacity: 30.
Caliber options: 5.56 NATO or .300 BLK.
Barrel length: 16".
Twist rate: 1:8" (5.56 NATO) or 1:7" (.300 BLK).
Overall length: 35".
Upper receiver: A3 Flattop.
Barrel material: 4150 chrome-moly.
Barrel finish: Melonite (FNC).
Barrel contour: Lightweight (5.56 NATO) or Heavy (.300 BLK).
Weight: 6 lb. (5.56 NATO) or 6.3 lb. (.300 BLK).
Bushmaster Minimalist-SD Rifle Build

The Minimalists are masterpieces; it's hard to believe that an MSR could be so lightweight and yet maintain the Bushmaster standard of high firepower and capabilities. Weighing in at just 6 lb., the semi-auto Minimalists are ideal for all types of shooters. One of the best additions by far is the Advanced Armament Corp (AAC) Square-Drop Handguard with KeyMod attachment points at seven different angles. They even notched up the stock by adding the comfortable Mission First Tactical (MFT) Minimalist Stock and QD cup with a rounded rubber buttpad. Mission First Tactical also manufactured the Minimalist's high-quality grips and magazines. Top-to-bottom, Bushmaster ingeniously designed a lightweight and efficient rifle to compete with any AR-variant on the market.
The Minimalist's flash suppressor is made by AAC, and the new Advanced Combat Trigger was designed by ALG Defense. At first glance, you might think that Bushmaster created a Frankenstein rifle by adding parts from several different manufacturers; nevertheless, they've harmoniously combined high end components to create a high end machine. Bushmaster's commitment to producing resilient rifles is clear by how much effort they've put into their barrels. They treat every 4150 lightweight contour barrel with ferritic nitrocarburizing (FNC) which significantly enhances its scuffing and corrosion resistance and aids in the gun's fatiguing. Besides for being efficiently designed, the Minimalists are also incredibly sleek and sexy.
Bushmaster Minimalist-SD Rifle Shooting and Performance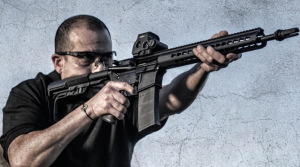 Bushmaster has entered into 2017 with a bang. Their new Minimalist SD rifles are a pleasure to shoot and own. Because of its 6 lb. weight and minimal recoil, shooting accurately has never been easier. Keep in mind that with its low weight, comfortable stock, and customization capabilities, adding preferred accessories easily makes accurate shooting even simpler. One of the most interesting additions to the Minimalist is the ALG Defense ACT (Advanced Combat Trigger), which provides a consistent and effortless 5.5 lb. trigger pull. Overall, its 5-star accuracy and user-friendliness make this gun hard to pass up.
Bushmaster Minimalist-SD Rifle Magazines and Sights
It's almost hard to believe how much of a difference magazines can make in a firearm, but once I handled the Mission First Tactical (MFT) standard capacity polymer magazine, I realized it actually does. Designed to be an upgrade of the standard STANAG mag, the MFT's composition makes handling and extraction significantly easier. This American-made mag has tool-less disassembly with double floor plate safety release tabs to safely release spring tension and do quick ammo dumps. This mag comes with drain holes, a durable stainless steel spring, an over-sized mag catch, and is fashioned with a military grade reinforced polyamide.
Because of the Minimalist's AAC Square-Drop Handguard, users may feel obliged to deck out their new gun with tons of accessories. However, Bushmaster engineered this gun to be light – why not keep it that way? Sometimes simpler is better, and with this gun all you really need is a good pair of open/peep sights, and you're good to go. If you insist on getting something more sophisticated, just remember that this gun is already extremely accurate, so you don't need to go crazy with sights.
Bushmaster Minimalist-SD Rifle Safety and Assembly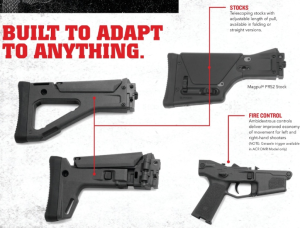 One of the most underrated safety features in a rifle is its reliability and jamming frequency. The Minimalist SD rifle is designed to work well and for a long time. If kept clean, you should rarely face any misfiring issues or malfunctioning. Although the safety switch on the gun is standard, the safety measures of this Bushmaster masterpiece do not stop there. Oddly enough, the MFT mag is laden with safety features. The low profile front ribs and flared floor plate make handling and reloading stress-free. Furthermore, the safety release tabs allow the user to safely release spring tension during disassembly and quick ammo dumps. The over-sized mag catch notch in the rear of the mag makes the bolt catch operation much more reliable and in turn safer.
Assembly of the two new Minimalists is as easy as any other AR-15 variant on the market. The best part is that it doesn't require a tool kit. Some users may feel more comfortable using a barrel wrench, but otherwise, taking this gun apart and putting it back together is a breeze. With the addition of the rifle length AAC SquareDrop handguard, even attaching accessories is fast and easy.
Custom Bushmaster vs Kentucky white tail pic.twitter.com/Ck6rV4p7Ch

— Bushmaster Firearms (@BushmasterLLC) January 4, 2017
Bushmaster Minimalist-SD Rifle Prices
Although the $1,169 suggested retail price on both models may sound like a lot, do not be turned away. This is an incredible value for such an incredible product. Keep in mind that each new feature of the Minimalists, like the ALG trigger, contribute to this cost. If you view the price with this in mind, I think your concerns about price will be mitigated. You are definitely getting what you pay for, especially once you see the AAC equivalent (300 AAC Blackout) which goes for over $1,500.
Bushmaster Minimalist-SD Rifle Accessories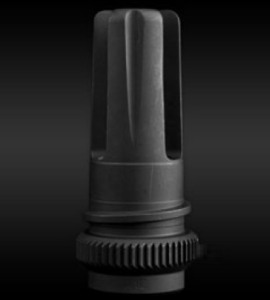 There is seemingly no limit to how much anyone can customize the new Minimalist SD rifles. For starters, the AAC 51T tooth flash hider mount opens the door for tons of possibilities, but the downside is that you are "stuck" with only AAC products. Arguably the biggest upgrade for these is the AAC SquareDrop handguard which gives plenty of accessory options to mount such as lights and lasers. For those looking for even more accessories, Bushmaster's catalog is full of great stuff – I highly recommend taking a look. They manufacture all kinds of kits, grips, stocks, and slings. Your best bet is to stick with basic front and rear iron sights and to forgo the fancy equipment. The Minimalist SD's are great lightweight weapons and to overdo it with accessories would be a crime.
Conclusion
Bushmaster Firearms decided to rev up their catalog for 2017 and by adding the two Minimalist SD rifles, and they have surpassed all expectations. These two beautiful semi-auto weapons are top-shelf AR-15 variants that can easily compete with anything on the market. These join an already impressive XM-15 line but add some additional flare with their extraordinary ergonomics, accuracy and reliability. These are NOT your typical AR-15s; the Minimalists are dependable, accurate, and durable, and have a bargain of an MSRP.
It's refreshing for me to see that instead of doing the same old, Bushmaster completely modernized their new guns. Bushmaster claims that "no other MSR packs more firepower and functionality per ounce" and that is no exaggeration. I highly recommend this weapon to shooters of all experiences who want an AR-15 that shoots well, looks good, and is engineered to perfection.