A buddy of mine recently asked me to recommend him an affordable starter pistol that would be user-friendly, accurate, and safe. He just reached the legal age to carry but was still relatively new to guns, so he wanted something simple and inexpensive to experiment with. While I'm a big fan of the Taurus 709, Kahr CW9, and the Ruger LC9, I suggested that he try out the Hi-Point C9. Like me, he wanted an American-made firearm, so I figured that the C9 would be a good fit.
Fast forward six months and he couldn't be happier with my recommendation. He was impressed with its surprisingly simple design and flawless performance. Realizing how underrated this semi-auto really is, I decided that it's time that we uncover the truth. So let's get to it – this is the Gunivore breakdown of the Hi-Point C9.
But before we begin, I recommend checking out our comprehensive overview of the past, present and future of this unique American gun maker here.
Hi-Point's C9 Pistol Specs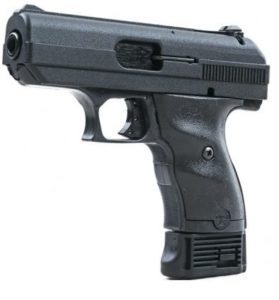 Model: Hi-Point C9
Caliber: 9mm Luger
Capacity: 8+1
Action: DAO
Overall Length: 6.75"
Barrel Length: 3.5"
Weight: 29 oz. (loaded)
Finish: Black Powder Coat
MSRP: $199.00
C9 Pistol Build
Hi-Points are infamous for being ugly, but I think you'll that a lot has changed for the underrated firearms company. Granted that the extended mag C9 looks a little funky, the standard model looks just fine. Is it as sexy as the Beretta PX4 Storm or the SIG Sauer P226? No -But in terms of all of its other specs, the Hi-Point C9 is a very respectable performer.
The first thing you'll notice when you pick up this single-stack pistol is its surprisingly heavy build. While this may be a turn off for some folks, this weight isn't for naught. To keep their weapons simple and inexpensive, Hi-Point employs the traditional blowback design and forgoes the more common breech-locking system. Instead, these semi-autos rely on their heavy slides to keep the breech closed. In the end, while they may be heavier and less attractive, they are also easier to field strip and are arguably more reliable thanks to this key simplification.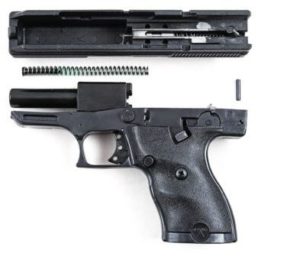 In another attempt to increase their durability without increasing their price, Hi-Points feature slides cast from a zinc-alloy instead of machined from forged steel. This alloy combines several strong metals which also help prevent corrosion on the firearm. Additionally, the C9 is constructed with sweet lightweight high-impact polymer frames and grips. To even further its durability, Hi-Point integrated steel reinforcing inserts into these components. After just one glance at its design and you'll see that its easy-grip finish and unique shape provide great ergonomics.
As I mentioned, safety is a major priority to Hi-Point and the C9 has some really great safety features. In addition to its on/off thumb safety, the semi-auto pistol also contains a magazine disconnect safety and ships with a free trigger lock.
Although this may be a budget firearm, its components certainly don't indicate as much. Hi-Point handguns come pre-equipped with a 3-dot, fully adjustable sight system and even includes an extra rear peep sight too.
Despite the fact that the C9 is a little heavier than desired, its 6.75" overall length and easy pull make it an excellent choice for concealed carry.
Overall, the 100% American parts and assembly give the C9 an astounding level of reliability, safety, and durability.
Hi-Point's C9 Pistol Performance
While the C9's build doesn't indicate that it should be as cheap as it is, it's time that we evaluate its performance and see if it shoots as well as expected. Most budget guns are finicky when it comes to their cartridges, but I can assure you that the C9 can handle just about all factory grade ammo and is even +P rated.
In terms of ergonomics, these pistols feel great in the hands, thanks in part to their unique design and comfortable high-impact grips. Furthermore, this DAO blowback gun is surprisingly easy to control, especially considering its powerful 9mm punch. As we mentioned earlier, the Hi-Points are non-traditional in the sense that they don't utilize the locked-breech design, but this won't noticeably impact the C9's performance. To compensate, the C9 has a heavy slide to hold the breech and boost safety and control. In point of fact, this added mass definitely contributes to the C9's unexpectedly manageable recoil.
I found the C9's point and shoot ability to be about average, which is a good sign. The 3-dot, rear-adjustable sight system offers quick target acquisition and its decent trigger allows for reasonably fast shooting. If I could change anything though, it would be the trigger. With a heavy 8 lb. break and fairly crisp release, I'd like to see Hi-Point upgrade this component on their next model. However, one of the best attributes of this gun is that the slide locks open after firing the last round. I don't have to tell you how annoying it can be to keep pulling the trigger and looking foolish when you've already run through the mag five pulls ago.
You'd think that with such affordable firearms, you'd see occasional stovepiping or other malfunctions, but my buddy told me that he's yet to see anything like that in over 700 rounds fired. I'd say that's pretty reliable!
C9 Magazines
The American-made magazines produced by Hi-Point are nothing special. Since most of their pistols ship with only one mag, I recommend picking up an extra online – they don't usually run for more than $20. However, if you don't think the C9's 8+1 capacity is enough for you, Hi-Point also offers an extended 10-round magazine. But be warned, the added size of this mag does make the gun look a little weird.
Notorious Problems of Hi-Point and the C9
Hi-Point's firearms are notorious for being unattractive- but as I said before, I don't think that's completely true or even important. Furthermore, they've also received a decent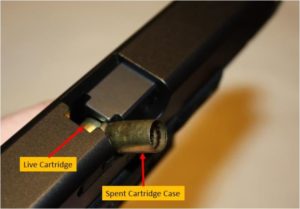 amount of controversy for being commonly used by criminals. Once again, who the hell cares?
More importantly, Hi-Points run a little heavy, but over the past few years, they've managed to shed some of that unwanted weight. For instance, whereas the C9 used to weigh 29 oz. unloaded, they've got their 9mm to weigh that when fully loaded. Although this may seem like a small accomplishment, with guns this small, every ounce counts.
Another major criticism of these semi-autos is that they don't feature a firing pin block safety mechanism. This "less safe" design has led many people to believe that Hi-Points are not safe to carry Condition One (cocked and locked). While I believe this to be a legitimate concern, I think that these guns are still great CCWs, but I'd only recommend experienced shooters to carry them.
C9 Comp Variant
Hi-Point recently debuted a variant C9 called the C9 Comp (compensated) and it's something worth checking out. While noticeably larger than the standard model, the variant stands out more due to its specially designed compensator attached to the end of its barrel. One of the biggest advantages to this added component is that it significantly reduces recoil and muzzle rise.
Even more, Hi-Point hooked up this compensator with a rail for users to attach all kinds of accessories like flashlights and lasers.
C9 Aftermarket Options and Accessories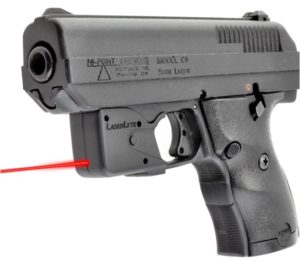 While the standard Hi-Point C9 doesn't have many aftermarket options, there are a few additional sights available. I highly recommend trying out their ghost ring sights and to stay away from the peep sight (both included with purchase). Additionally, Hi-Point is known for producing a massive array of customized grips. With their very affordable price tag, I think it's worth the extra few bucks to give your C9 a personal touch.
On the other hand, with the addition of an incorporated rail on the C9 Comp's forend, there are a few nice tactical additions for you to consider. I love the Uni Max Micro Rail Mount red laser, as well as the Insight M Series LED x2 SubCompact handgun light.
Conclusion
All things considered, the Hi-Point is a very formidable CCW that outperforms its price tag and criticisms. My buddy was so thankful that I introduced him to Hi-Points – and although they're not geared for everybody, they can make a great addition to anybody's collection.