Table of Contents
My father has recently been pressing me to recommend a new backup carry gun for him, and I've been struggling to find the right one. Because he's my father, I only want the best for him, and that means I have to consider price, weight, reputation, reliability, concealability, and more. That being said, he's been an adamant semi-auto shooter for as long as I can remember, so I was hesitant to suggest a wheel gun. Unfortunately,  he was still undecided, even after reading my Top CCWs of 2017 piece. Considering that he already owns the impressive Smith and Wesson M&P 2.0 and Taurus 709, I think he was looking for something smaller to keep in his glove compartment or holstered on his ankle. Then I got thinking about the new and improved, totally revamped, Charter Arms Bulldog.
This highly-rated and recommended .44 Special revolver is as practical as they come and it won't break the bank either. Unfortunately, Charter has seen its fair share of ups and downs over the years, so it will take some time for their reputation to catch up to where it truly belongs. The here today, gone tomorrow Charter Arms is a thing of the past; The New England firearm producer currently boasts a catalog filled with first-class, heavy-punching revolvers. For an in-depth breakdown of Douglas McClenahan's resilient enterprise, check out my company overview here.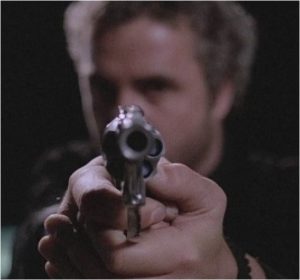 Originally released in 1973, the Bulldog quickly became Charter's top-selling product and was even one of the best-selling revolvers in the country. However, while Charter was battling bankruptcy and struggling to manage their operations, the Bulldog fell victim to several manufacturing complications. After outlasting a couple of halts in production and receiving a few overhauls, the final version of the .44 Special was finally released ten years ago. As Charter's trademark revolver, the Bulldog has seen its fair share of attention, but it hasn't always been so positive. While it has been featured in movies like Killing Them Softly and Blade Runner, the Bulldog made news in the late 70's after the notorious serial killer, the "Son of Sam", utilized the weapon in his reign of terror in New York. 
Enough chit-chat, let's get down to business – This is the Gunivore rundown of Charter Arms' Bulldog revolver!  
Caliber: .44 Special

Capacity: 5 Rounds

Overall Length: 6.7"

Barrel Length: 2.5"

Weight (Unloaded): 20 oz.

Finish: Black nitride Frame

Sights: Fixed

MSRP: $443.00
Bulldog Build & Construction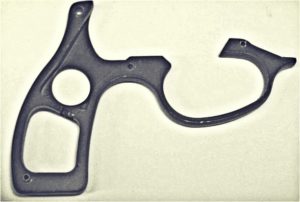 Charter Arms' feature snub nose firearm has endured the test of time as one of America's best concealed carry revolvers, and for good reason. The immensely powerful handgun is built from 100% American-made components that are as durable as they are reliable. But before we get into the nitty-gritty, I must first say that the only complaint I've ever heard about the Bulldog was about its capacity. Although it only chambers five rounds, .44 Special rounds tend to be plenty strong when it matters most.
While the Bulldog may look like your standard snub nose revolver from afar, take a closer look and you'll be surprised to see how special it really is. Charter Arms abandoned the traditional side plate and opted for a stronger single-piece frame. Furthermore, to boost their durability, these guns have their barrels threaded into their frames. Clearly, Charter was determined to create a CCW that could handle tons of abuse. In fact, they even ditched the conventional small retention screws for a more modern route –having the cylinder yoke secured into the strong steel frame. But with all of these extra durability-boosting features, you'd expect the Bulldog to feel like an S&W 500 Magnum. However, Charter's engineering team has somehow managed to keep the Bulldog at a comfortable, easy-to-handle 20 ounces!
To keep it around 20 oz., Charter removed a few excess internal parts, hoping to keep their gun as simple as possible. As a result, Charters are not only significantly more dependable than more-traditional revolvers, they are also excellent for self-defense.
Although the Bulldog has no external safety mechanism, it is nonetheless regarded as one of the safest CCWs on the market. In order to eliminate the common safety issues of carrying a wheel gun, the solid-framed Charter contains the dependable hammer block transfer bar safety system. In fact, this now-ubiquitous feature was actually invented by Charter way back when.
Charter Arms Bulldog Performance
By its build alone, you can already see that the Bulldog is no ordinary revolver. The purpose of the Bulldog was to offer big performance in a small, compact frame, and Charter knocked it outta the park. The big bore .44 Special handgun may be one of the heaviest hitting out there, but you'd be shocked to see how easily it handles. Although its solid build and great grip definitely provide some much-needed control, I'd like to see Charter give them ported barrels or something.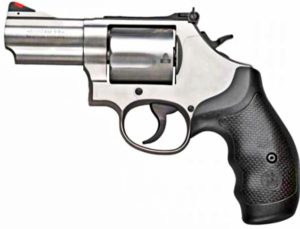 When considering a Bulldog, you have to keep in mind that you won't be hitting bullseyes from 50 yards out. Because the American company designed these as self-defense weapons, they are most accurate within a 20-yard range. Nevertheless, these double-actions are definitely more accurate than the comparable guns the market has to offer, like the Taurus Model 445 or S&W Model 29. To achieve this "superior" accuracy, Charter made a few modifications to their trigger, including widening it and easing its pull.
In true Charter genius, the New England weapons manufacturer made a few small adjustments to their barrels which resulted in huge improvements in their accuracy and overall performance. Their brilliance was to add more rifling to their barrels, opting for 8 grooves instead of the usual 6. As a result, Charters can fire their trademark heavy rounds straighter, faster, and more accurately.
Most people don't think of .44 Specials as versatile handguns, but the Bulldog, once again, is not your average revolver. The Charter can handle a wide variety of ammo, but be careful what you choose, and take into account what kind of shooting you'll be doing. For example, I'd go for something like Federal Champion 200-grain hollow-points for self-defense but upgrade to Winchester Cowboy Ammo 240-grain for hunting.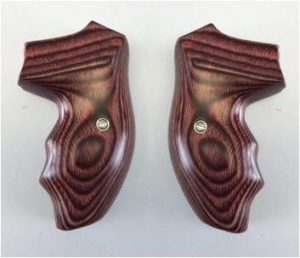 Because these are snub nose revolvers, there aren't so many aftermarket options. Nevertheless, I recommend investing in a good holster, especially considering that these were made to be CCWs. When it comes to holsters, you can't go wrong with Desantis, and they've specially crafted their Thumb Break Scabbard just for Charter. On the other hand, since my father was looking to holster his new gun on his ankle, I suggest checking out the Galco Ankle Glove holster.
Your only other serious option to consider is switching grips, although the default set is pretty great already. If you do decide to change things up, Charter offers a beautiful rosewood grip in addition to the classic Bulldog style wood grip which provides a more refined and traditional look. But get them quickly because they're running out fast! 
Charter Arms Boomer
Charter recently debuted a compact version of their famous .44 Bulldog, called the Boomer, and it's a hit. These sleek and sexy variants have all the features Bulldog owners love plus more, all condensed into a smaller, more compact build. The biggest modification Charter gave these powerful revolvers was ported and tapered barrels which effectively minimizes their recoil and maximizes their draw speed.   
Caliber: .44 Special

Capacity: 5 Rounds

Overall Length: 6.7"

Barrel Length: 2"

Weight (Unloaded): 19 oz.

Finish: Matte Stainless or Blacknitride

Sights: Fixed

MSRP: $443.00
Vs. Smith & Wesson Model 629
Considering how uncommon .44 Special is nowadays, there really isn't much that can compete with the Bulldog. The best alternative I can think of is the Smith and Wesson Model 629. Although it is generally listed as a .44 Magnum revolver, it is more than capable of firing the softer .44 Special rounds. These stainless steel S&Ws offer a bit more versatility, plus they have the legendary reputation backing them up. However, these added benefits will put you back more than twice the cost of a Charter – the question remains whether these extra features and abilities are worth it. 
Caliber: .44 Magnum & .44 Special

Capacity: 6 Rounds

Overall Length: 10.5"

Barrel Length: 5"

Weight (Unloaded): 44.7 oz.

Finish: Matte Stainless

Sights: Adjustable White Rear / Red Ramp Front

MSRP: $989.00
Conclusion
"With great power comes great responsibility" – This timeless adage perfectly sums up Charter Arms' .44 Special Bulldog revolver. These high-powered self-defense weapons offer incredible reliability paired with classic aesthetics all while inspiring true confidence. Pick yours up today at your local Charter Arms Dealer!
Thanks for joining us here at Gunivore!