Table of Contents
Take one look at Charter Arms and you wouldn't believe the road they've had to take to get to where they are now. At the end of the day, Charter has been in good company, and that's what has kept them enduring. The fact that the American revolver producer is headquartered in the New England Gun Valley has surely helped them stay on their feet. Like Silicon Valley for high-tech and the Brescia Province for Italian firearms (see Beretta, Franchi), this region is home to some of the world's top weapons manufacturers. In addition to Charter Arms, the New England Gun Valley is also home to Colt, Marlin, Mossberg, Ruger, Stag, Smith & Wesson, Savage, Kahr, Heckler & Koch, and Sig Sauer.
In today's Gunivore Company Overview, we're going to be putting Charter Arms under the microscope to find out more about this underappreciated gunmaker and their collection of fine American revolvers.
Charter Arms History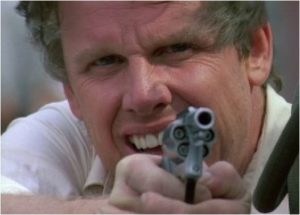 Although Charter Arms has recently seen a boom in business, it wasn't always this way. In fact, they've had to face one hell of a rocky road ever since Douglas McClenahan founded the company in 1965 – I'm actually shocked to see how they've managed to stay in business. Nonetheless, the facts all pointed towards their success from the beginning, especially considering McClenahan already had years of experience with Colt and Ruger under his belt.
The young weapons designer had big hopes of developing his own line of strong-bodied revolvers but with one-piece-frames. By avoiding side plates, Charter's revolvers would not only be more durable, but they'd also be able to shoot higher loads more reliably. Furthermore, McClenahan went on to innovate a new safety system that has been nearly universally replicated throughout the industry. 
After a few years of initial success, Charter suffered their first bankruptcy until they were eventually bailed out by McClenahan's long-time friend and colleague, David Ecker. This new partnership enabled Charter to continue right where they left off and saw many new improvements including upgraded barrels and sights. Then, after initially producing revolvers chambered in a variety of calibers, including .32 Long, .327 Magnum, and .357 Magnum, Charter Arms began focusing their attention on .38 & .44 Special. Unfortunately, even with the newfound alliance with Ecker, McClenahan couldn't keep Charter from going bankrupt again, this time in 2005. 
Shortly afterward, the New England firearms manufacturer employed MKS Supply to handle their sales, marketing, and distribution, which would ultimately give them the boost they needed to thrive. This relatively young company has made it their mission to represent up-and-coming weapons producers and to be their number one asset. Since their inception nearly twenty years ago, some of their notable clients have included Hi-Point Firearms and Inland Manufacturing. However, Charter cut ties with MKS in 2010 and finally took over their own financial responsibilities.
Now, let's take a closer look at Charter Arms' lineup of high-powered revolvers to see exactly how impressive they really are.               
Charter Arms Products Overview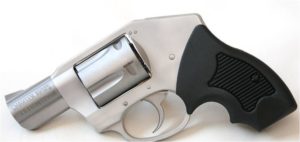 Owners of Charter revolvers are proud of their guns because they're not only remarkably built, but they're also 100% American-made. With the experience of founder Doug McClenahan paired with Ecker's ingenuity, Charter has manufactured some of the most durable and reliable revolvers on the market. By adopting the one-piece frame design, these wheel guns are lighter, simpler, and stronger than the revolvers of the past. Plus, fewer parts means these guns are easier to strip, clean, and operate.
With maybe their biggest improvement yet, Charter Arms perfected their accuracy and overall performance by making a few small tweaks to their barrels. While most modern handguns feature no more than six grooves, Charters are built with eight, making them fire straighter, faster, and more accurately. More importantly, Charter is responsible for developing the hammer block transfer bar safety system which has been adopted across the industry. This added safety feature practically eliminated all of the issues commonly associated with carrying a wheel gun. Now, with a completely blocked hammer, most revolvers won't fire unless their trigger is completely pulled.
Although Charter Arms got their start with the ever-popular Undercover, it's the Bulldog that has become their trademark firearm. Initially released in 1973, the Bulldog quickly became one of the best-selling guns in the United States. After a few hiccups in production, their newest model was finally re-released in 2007 with all-new features and has seen similar sales figures compared to the original. More recently, Charter debuted a compact version of their .44 Bulldog, called the Boomer. Featuring top of the line grips, these powerful handguns have ported and tapered barrels to minimize recoil and maximize draw speed.  
Meanwhile, their pioneer revolver, the Undercover, has maintained its popularity as one of the most trusted CCWs in the market. The lightweight snub nose was ahead of its time when it was released way back when, and is still considered an advanced firearm. For folks in search of an ultra-concealable revolver without having to sacrifice power, look no further than the Undercover.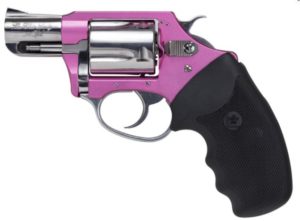 While the Undercover was already a huge hit, the New England weapons developer took it a step further when they released the Undercover Lite. These super lightweight .38 Specials saw even more success once Charter began releasing them in a variety of colors and finishes. Their most famous model is the Chic Lady, with its pink anodized frame, hi-polished parts, and all. But fear not, while these revolvers may be lighter, they are still extremely durable.
Next up in Charter Arms' collection, we've got the Pathfinder, available in the cheaper and more user-friendly .22 LR (and .22 Magnum). While equally as intimidating as its more powerful cousins, the Pathfinder revolver is a great gun for newcomers, ideal for all kinds of plinking and target practice.
In addition to their assortment of revolvers, Charter recently acquired the rights to the incredible Blacknitride process which gave their weapons a serious boost in durability. By strengthening the metal components by up to ten times, the Blacknitride finish will keep your Charter looking spick and span for years to come.                   
If you like Charter Arms, you might want to check out Taurus Firearms and their Model 608, .22 calibers, and .38 Special Revolvers.
Future of Charter Arms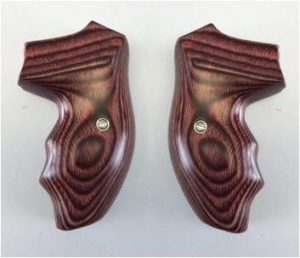 After recently winning a few awards and nominations, including the American Rifleman NRA Gun of the Week (Boomer), Charter Arms is intent on continuing this run of success. Plus, in an attempt at boosting user-friendliness, Charter has started to release new limited edition grips. These one-size-fits-all grips are as premium as they look – Check out their sexy and comfortable Backpacker Wood and Rosewood grips for an easy way to upgrade your handgun.
Conclusion
Regardless whether or not you're a fan of Charter Arms' lineup of heavy-duty revolvers, you can't help but admire their perseverance. After repeated failures and bankruptcies, Douglas McClenahan persisted, continuously pushing the bar to produce top-shelf revolvers. His commitment to innovation, safety, and power has never faltered in his 50+ years of business. Stay tuned for more reviews on Charter Arms, as we go in-depth into some of their most popular firearms.