Goodybe M9 and hello P320. All good things must come to an end – And as many of you probably know, the U.S. Government recently decided that the time has come to replace the Beretta M9 as the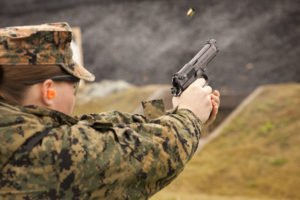 main military service pistol. After a six-decade run, our military had to make the tough decision of finding a new sidearm to supply our troops. Just as the M9 took over for the historic and popular M1911A1, there would soon be a new and improved firearm that would send the M9 to the annals of history.
But with the tremendously rigorous requirements and so many quality pistols out there, it would prove to be no easy task. In fact, they had planned to start the selection process as early as 2011 but multiple delays postponed it until early 2017. The Government dubbed this process the XM17 Modular Handgun System Competition (MHS). The winner would not only walk away with bragging rights, they'd also secure the half a billion dollar military contract. In addition to supplying firearms, this enormous deal would also include ammo, accessories, and services –Not to mention the huge boost to the winning company's market value.
2017's MHS Entry Requirements
In order to take home the prize, the new military handgun had to prove that it's more reliable, accurate, and effective than the phased out Beretta M9. The aforementioned legendary semi-auto served as America's service pistol since the mid-80's and solidified its position due to its incredible efficacy in some of the harshest environments in the world. Considering that the M9 is packed with tactical features and offers out of this world durability, the new sidearm would have to be one of the best pistols ever created.
Additionally, the new firearm had to be adaptable; meaning, it had to offer a variety of mag options, grips, and fire control devices. Plus, they wanted the new service pistol to have an integrated rail system, non-reflective neutral finish, and be suppressor-friendly. Furthermore, there were several tough accuracy and ergonomic conditions that had to be met. For example, the MHS winner would have to contain ambidextrous controls and be able to hit a 4" target from 50 meters consistently throughout its tenure. And although the military has been using a 9mm since the Beretta was first chosen, the MHS did not demand competitors to stick to this caliber.
The M9's Competitors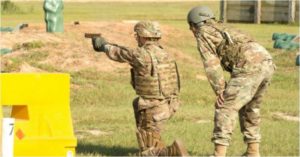 Although I had expected an American company to take the cake, there were a few serious European competitors who put up a good fight. Of these, the Austrian Glock 17and 22 were definitely considered top contenders. While less impressive, the Belgian FN FNS made by FN Herstal and the Czech P-09 (A.K.A. CZ 75) made by CZUB gave valiant efforts. Interestingly, Beretta entered their new APX pistols in hopes that they would keep hold of the massive contract, but it fell short in the competition.
From the Americans, the MHS saw handguns from KRISS USA (Sphinx SDP), Smith & Wesson (M&P), STI/Detonics Defense (STX), and Sig Sauer (P320). In my research, I came across something shocking; many experts were considering the anonymous STI-Detonics STX to be a frontrunner to win the military contract. Let's take a closer look at these competitors and see how they line up against each other.
Specs
Action: Single/Double (Short Recoil)
Caliber: 9 x 19mm Parabellum
Capacity: 15
Barrel Length: 4.9"
Overall Length: 8.5"
Weight: 33.3 oz. (Unloaded)
Sights: Iron Sights
Finish: Black Bruniton
MSRP: $629.99
Action: Striker Fired (Short Recoil)
Caliber: 9 x 19mm Parabellum
Capacity: 17+1
Barrel Length: 4.7"
Overall Length: 8.0"
Weight: 29.4 oz. (Unloaded)
Sights: Fixed Iron Sights (Front Blade, Rear Notch) – Optional Tritium Night Inserts / Optical Reflect Sight on RX Model
Finish: Black Nitron
MSRP: $679.00
Action: Double-Action / Single-Action
Caliber: 9mm
Capacity: 15+1
Barrel Length: 3.70"
Overall Length: 7.40"
Weight: 28.18 oz.
Sights: White Dot Front, Drift-Adjustable Rear
Finish: Matte Black
MSRP: $1,295
Action: Striker-Fired
Caliber: 9mm
Capacity: 17+1
Barrel Length: 4.25"
Overall Length: 7.55"
Weight: 28.24 oz.
Sights: 3-Dot Low Profile (Trijicon Night Sights Available)
Finish: Black Nitride
MSRP: $549.99
Action: Double-Action / Single-Action
Caliber: 9mm
Capacity: 18+1
Barrel Length: 4.6"
Overall Length: 8.15"
Weight: 40.5 oz.
Sights: Front Blade, Rear Square Notch
Finish: Black Polycoat
MSRP: $679.99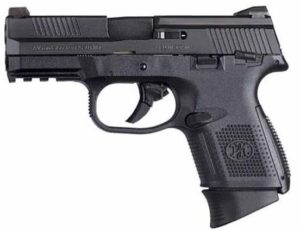 Model: FN FNS Compact
Action: Double-Action
Caliber: 9mm
Capacity: 17+1
Barrel Length: 3.6"
Overall Length: 6.7"
Weight: 23.4 oz.
Sights: 3-Dot Combat Sights
Finish: Matte Black
MSRP: $579.99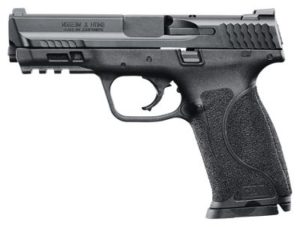 Model: Smith and Wesson M&P
Action: Striker-Fired
Caliber: 9mm
Capacity: 17+1
Barrel Length: 4.25"
Overall Length: 7.6"
Weight: 27.5 oz.
Sights: Iron Sights
Finish: Black Armornite
MSRP: $499.99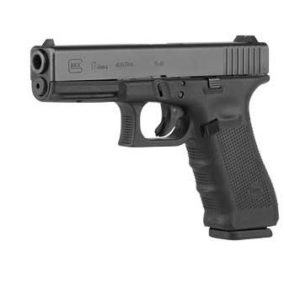 Model: Glock 17
Action: Striker-Fired
Caliber: 9mm
Capacity: 17+1
Barrel Length: 4.48"
Overall Length: 8.03"
Weight: 25.06 oz.
Sights: Fixed Sights
Finish: Black Gas Nitride
MSRP: $524.99
Action: Single-Action
Caliber: .45 ACP
Capacity: 12+1
Barrel Length: 4.25"
Overall Length: 7.95"
Weight: 36 oz. (Unloaded)
Sights: Fixed Serrated Combat Sights
Finish: Black Over Black
MSRP: $1,500.00
Who Came Out Victorious
On January 19, 2017 the United States Military announced that the winner of the $500+ million contract was Sig Sauer Inc. and their 9mm P320. In addition to supplying our armed forces with their new handgun, Sig Sauer will also be providing several types of ammunition and services. To get a grasp of how massive this contract is, the military stated that they expect to purchase up to half a million full-size P320s and nearly 10,000 compact models to supply the Air Force, Navy, Army, Marines, and U.S. Special Operations Command.
Sig Sauer debuted in 1853 as a wagon wheel manufacturer but when an opportunity for growth arose, they seized it and forever changed their legacy. In 1864, the founders of the small company entered a competition to supply the Swiss Army with a new rifle and won with their Prelaz-Burnand design. Fast forward nearly two centuries later and they are once again winning major military contracts. While Sig is already one of the most successful gun makers in the world, with an estimated global revenue of $500 million (2014), this new $500+ million contract might just propel them to the top.
One of the most important features on the P320 (now also called the M17) is its modular design. Whereas most pistols are nothing without their frames, the Sig's frame is really just a shell for its removable fire-control unit. This small and simple self-contained chassis holds the striker, ejector, and trigger and can be easily removed for cleaning. Consequently, this feature enables the owner to manually change nearly every component of the gun. For instance, you can now easily interchange different sized slides and grips, and even convert calibers (.357, .40 S&W, and .45 ACP). Plus, while most guns rely on their frame to stay intact, P320 owners can buy a new frame for less than $50! Now it makes sense why the serial number is placed on the fire control group and not the frame; the former is essentially the real gun and the rest are just replaceable parts.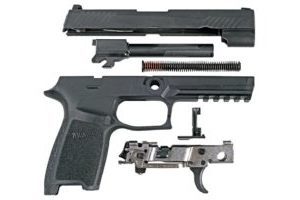 One of the biggest differences, or upgrades if you will, is that the M17 is polymer-framed. This key update drops the excess weight that its heavy predecessor, the Beretta M9, could not. It's no surprise why the military wanted a polymer firearm; besides for being cheaper to make, polymers tend to handle environmental abuse better. And even though the M9 has proven itself over the years in the harsh deserts and frigid mountains in the Middle East, the military wanted more.
The P320 took the military's MHS requirements and exceeded all expectations. In fact, the P320 is one of the most user-friendly handguns ever made. In addition to its several ambidextrous controls including the slide catch lever and mag release, the M17 is also super easy to disassemble (the takedown is fast and doesn't require any tools). It's important to note that its simple takedown is also incredibly safe. The Sig Sauer three-point takedown safety system prevents the firearm from being disassembled without first locking the slide to the rear and removing the magazine.
Can't get enough Sig Sauer? Check out our in-depth reviews of some of their most popular products, including the P250, MPX, M11-A1, and P290!
Sig Sauer P320's Premium Performance
I don't really feel it's necessary to go into detail about the P320's performance considering that it passed the MHS' rigorous tests and beat out some of the toughest competitors on the market.
Nevertheless, I gotta praise Sig Sauer for their much-improved trigger. They outfitted the P320 with a silky smooth and consistent 6.25 lb. trigger pull that feels great. Lastly, in classic Sig fashion, the M17s can handle just about any type of ammo you throw in it. And knowing how dependable Sig Sauers are, plus their insane accuracy, these guns will be around for a long time.
Serious Problems with the P320 Sig Sauer Pistol
Even after winning the arduous MHS competition, there was still one serious problem that went unaddressed for months. Many users around the world experienced unintentional discharges after dropping their P320, which is totally unacceptable. Besides for the potential property damage that can occur, there's also a serious concern for the possible physical harm or even death that can happen. However, just this week, Sig Sauer dealt with this issue and developed a number of adjustments and improvements under their new voluntary upgrade. More information about this will be available at sigsauer.com as of Monday, August 14, 2017.
Even after Sig Sauer was awarded the $500+ million contract from the government, they still had to put their celebrations on hold. With such an infrequent and profitable opportunity at hand, it was inevitable that there would be some protest from the competition. In this case, it came from Glock. The Austrian arms manufacturer claims that the MHS didn't test the competing firearms thoroughly enough. More specifically, they believe that the military ignored "heavy endurance testing" and that the Glock would outscore the Sig. Nevertheless, an Army spokesperson made it clear last month that they were no longer entertaining Glock's request for further testing.
Available Accessories for the P320
When it comes to comparing the new P320 to the reigning champion M9, the Sig Sauer definitely offers more aftermarket and accessory options. In addition to the variety of options made possible by the removable fire-control unit and Picatinny rail, the Sig is also available with several different sight systems. I've heard a lot of good things about the optional SIGLITE but I've also heard a decent amount of complaints about the Romeo1 sight on the RX model. That being said, be sure to check out these sights in person before ordering them.
When it comes to attachments, you don't always get what you pay for, so be careful when picking out your aftermarket choices. Most folks utilize the P320's Picatinny rail by adding either a laser sight, tactical flashlight, or a combination of both. One of the best lasers you can buy is the Crimson Trace CMR-206 Rail Master Universal (Green Laser). This laser can do it all, but with this kind of quality, $120 doesn't sound so bad. On the other hand, I've seen excellent laser sights that go for less than $20! One of the best examples is the highly rated TACTICON Laser – Check out both of these laser sights on Amazon for the best prices.
As a tactical weapon, many P320 owners prefer to attach a flashlight to their gun, and understandably so. One of my favorite lights is the unassuming but powerful Surefire XC1 ($299). For something more affordable but still incredibly valuable, go for the Streamlight 69220 TLR-3 ($82).
For whatever reason, there's a shortage of holster options for the Sig P320 so finding the right one won't be easy. Sometimes simpler is better and the Sig Sauer-made Concealment Holster is a nice and straightforward way to carry your Carry or Compact model. As an added bonus, it's fully ambidextrous and convertible between OWB and IWB carry. The only other holster I'd consider would be the Fobus Evolution Right Hand Paddle Attachment. Its lightweight polymers and low-profile design make it great for concealing your firearm.