Table of Contents
I recently recommended the Hi-Point C9 to my buddy, and although he was more than happy with the result, he wanted more. Like me, he's an accessory lover and wanted to deck out his new semi-auto. Fortunate for us, Hi-Point also manufactures some pretty great accessories for their whole lineup of pistols and carbines. In today's Gunivore exclusive, we're going to be discussing the best aftermarket options offered by the American Hi-Point Firearms Company. Although these handguns function pretty well without any additions, their low price tags let me feel less guilty about throwing down the extra cash for add-ons. There's actually a pretty surprising amount of options out there, so let's get down to it and see the top Hi-Point accessories.
Best Hi-Point Custom Grips
While Hi-Point's firearms are built with above-average high-impact grips, I highly recommend checking out their collection of custom grips which are even more ergonomic than the factory default options. One of the biggest complaints about Hi-Points is their unattractive designs, but adding the personal touch of a personal grip helps mitigate that issue.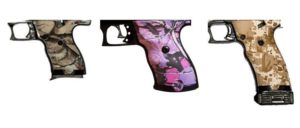 Besides for common patterns like camo and carbon fiber, these textured grips come in stylish patterns like $100 bills, American Flags, Boa snakeskin, and skulls. However, if you want to add a touch of class, check out their light wood grain and Burl wood grain designs.
Hi-Point hydro-dipped these grips with a durable coating and texturized them to give the shooter an even better handle on the firearm. For even more good news, this method of personalization will only put you back around $20.
ATI Hi-Point 9mm Carbine Stock w/ Buttpad

The next accessory is a great way to update the older Hi-Point Model 995 carbine. The ATI Carbine Stock with a buttpad is one of the most durable and resilient accessories I've ever seen. This sweet addition is crafted from glass-reinforced polymer and features a great, comfortable textured grip. Additionally, ATI gave this stock DuPont extreme temperature protection as well as a scratch-resistant finish. Last but not least, it's also super easy to install!
Ace Case 3C Fit-All Conceal Carry Comfort Holster (IWB)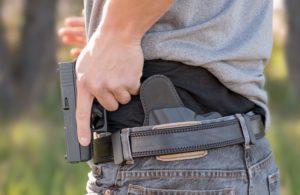 Considering that Hi-Point's semi-automatic pistols were designed as CCWs, it's only right that they are paired with a great holster. I'm a big fan of Ace Case's American-made option designed for the higher caliber Hi-Points, like their .40 S&W and .45 ACP handguns. These fully lined, heavy-duty holsters are exceptional whether you're a lefty or righty. To ensure their ambidextrous ability, Ace gave it an adjustable belt and clip combo with belt loops on both sides of the holster. For even more customization, the thumb break can easily be adjusted for comfort.
As impressive as these features are, what's even more special is how space-efficient this holster is. Besides for its ability to properly hold an accessorized Hi-Point, its magazine pouch can hold two single stacked mags (or one double stacked). Now with all of these great specs, you might think that a holster like this would go for about $30-$45, but due to its inexpensive nylon material, you can pick this holster up for less than $20!
BSA 30mm Red Dot Scope with 5 MOA
One of the best optics I've seen on a Hi-Point carbine is the BSA 30mm Red Dot Scope with 5 MOA. This low-cost sight features an eleven-position rheostat and even a brightness control option. While Hi-Point's carbines are great tactical and hunting weapons, this sight system significantly boosts its close quarters and medium range abilities.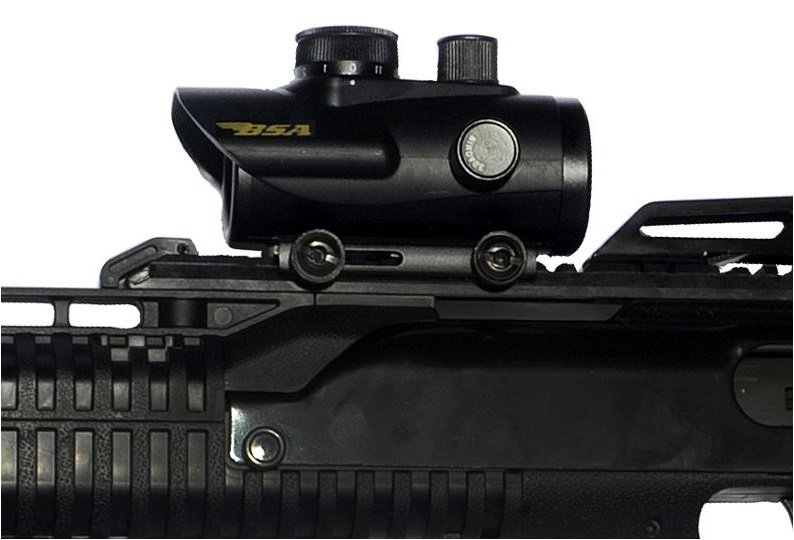 Hi-Point C9 9mm single-stack magazine loader by Hilljak – Neon Green
The last accessory on our list is arguably one of the most underrated aftermarket options out there: speed loaders. I recently picked up Hilljak's single stack mag loader in my favorite color and it has helped me tremendously. Whether you have bad hands or are just looking to speed things up at the range, this is a great way to take care of business. Both inexpensive and ergonomic, Hilljak's Quickie Loader for the C9 is made in America out of 3D printed polymer plastics. Considering that time is the most precious resource, this $15 time-saving accessory is a no-brainer for your Hi-Point accessories.
Conclusion
So there you have it. Hi-Point Firearms are known for being low-cost weapons that sacrifice looks and weight for better cost and performance. That being said, with all that extra money, do yourself a favor and update and improve your Hi-Point pistol or carbine. These top Hi-Point accessories are just the tip of the iceberg – there are plenty of other aftermarket options for these guns, but these are the cream of the crop.
Be sure to keep your Hi-Points spick-and-span – Check out our in-depth reviews of Hornady Gun Oil, Rem Oil, & Slip 2000 for great cleaning options.